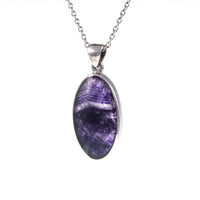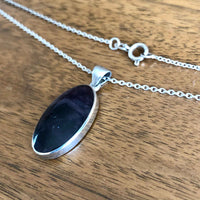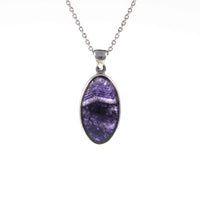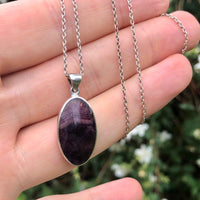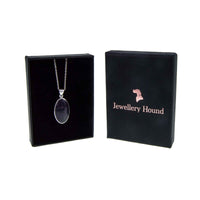 Vintage Blue John Oval Silver Pendant and Chain
Vintage Blue John (Fluorite) Oval Silver Pendant and Chain
A beautiful dark but distinctive oval purple fluorite cabochon stone in a rub-over setting attached to a solid bail hanging from an 18" Silver Trace chain.
Age: c1990s
Condition: Pendant and Chain are in very good condition, some tarnishing, and very fine scratches noticeable on close inspection. (Please see magnified photos for full details.
Size: 18" (45cm) Long Chain
Measurements: Length (inc Bail) 30mm and Width 13.6mm
Weight: 5.7 grams
Marks: Marked 'SIL', white metal responds positively to tests for Silver
Blue John : Also known as Derbyshire Spar, is a semi-precious mineral, a form of fluorite containing bands of yellow or a purple-blue colour. In the United Kingdom it can only be located at Blue John Cavern and Treak Cliff Cavern at Castleton in Derbyshire. Throughout the 19th century, Blue John was collected and mined for its ornamental value, yet mining still continues on a smaller scale today. Recently, deposits of fluorite have been found in China with similar colouring and banding to the original Blue John stone.
N.B.
Images are not to scale, items will appear larger in photos, this is not to deceive but to show all possible detail. Please see measurements for full detail.
Also please note It is vitally important to us that you when you receive your item there are no untoward surprises, so much so that the photo's (and descriptions) don't always show items in their best light.
If you already love this pendant you will love it even more in the 'flesh'!