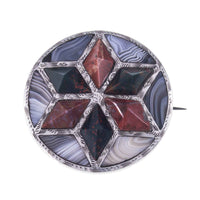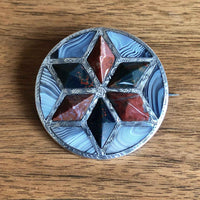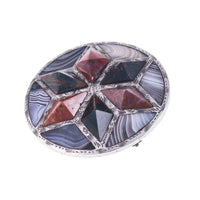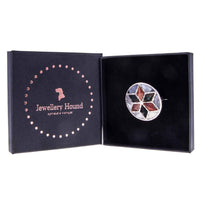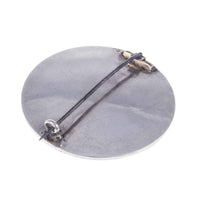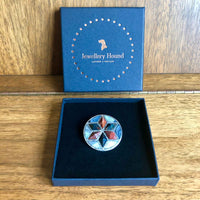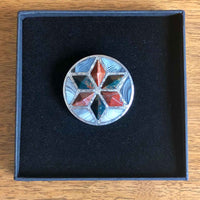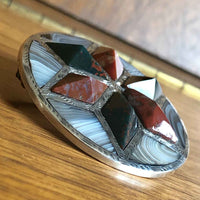 Scottish Agate Antique Silver Brooch c.1890s
A Circular Scottish Agate Antique Silver Brooch typical of its Victorian style (c.1890). It has good size and its 3 dimensional diamond shaped bloodstone and jasper forming the Star make it a real stand out piece .
The circular brooch is made up from bloodstone, jasper and agate, the background (around the outside) is from beautiful inset grey banded agate from Montrose, the six pointed star is made up from alternating bloodstone and jasper. 
The brooch has a lovely engraved sterling silver frame and although not having any hallmarks which is fairly normal for pieces from this period, has been fully tested and is sterling silver.
It has a Diameter of 4.3 cm ( one and two third inches ) and the pin and C clasp are in good working condition and original.
Weight: 17.0g
MATERIALS: Scottish Agate, Jasper, Bloodstone, Sterling Silver
HALLMARKS: None, Responds positively to tests for Silver
Condition:
This circular Scottish Agate antique Silver brooch is in great condition. The Agates and Bloodstones are all set well in the Sterling Silver. Agates are a hard stone and they show little signs of wear. The pin and its fastening though a little out of shape (See photos) are in strong working order.  A stunning brooch! 
Will be delivered in Gift Box photographed
N.B.
Images are not to scale, items will appear larger in photos, this is not to deceive but to show all possible detail. Please see measurements for full detail.
Also please note It is vitally important to us that you when you receive your item there are no untoward surprises, so much so that the photo's (and descriptions) don't always show items in their best light.
If you already love this Brooch you will love it even more in the 'flesh'!