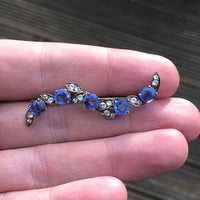 Rare Vintage Silver Blue Paste Brooch 1920s
SOLD - THIS ITEM IS NO LONGER AVAILABLE
Rare Vintage Silver Blue Paste Garland Style Brooch.
A beautiful interwar period blue and clear paste line brooch made in silver.
The 1920's brooch consists of five round pretty cornflower blue paste stones (flowers) interlinked with clear paste set in leaf shaped settings producing this garland effect brooch.
Apart from it's natural patina there are little signs of it's age on this belle époque era brooch, the fastener and safety clip are also in good working order.
There are no marking on the white metal but it responds positively to tests for silver.
Length: 50mm
Width: 15mm
Weight: 4.7g
Will be delivered in one of the boxes pictured.
N.B. Images are not to scale, items will appear larger in photos, this is not to deceive but to show all possible detail. Please see measurements for size.