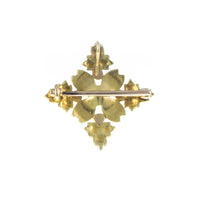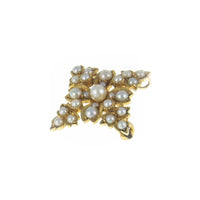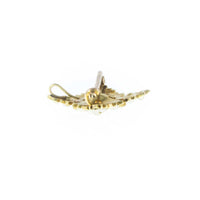 Petite Edwardian 18ct Gold Pearl Floral Pendant/Brooch
Petite Edwardian 18ct Gold Pearl Floral Pendant/Brooch
This stunning antique pendant is strikingly delicate. It features a foliate cluster of pearls in a squeezed rhombus shape (or you could say a 4 pointed star) with high quality open work. Made in the Edwardian era and set in 18ct gold, it is a classic intricately set piece that will look great on a gold chain or pinned on a garment all on its own.
Pearls are all perfectly colour matched sizing from 3.5mm to 1.3mm.
This dainty brooch has been made to the highest quality from the tiny scolloped edged settings to the choice of pearls and is still in perfect condition.
No markings but responds positively to test for 18ct gold.
Measuring 25mm from point to point.
Weighs 3.7 grams.
Please study the detailed photos as these make up the description.
Will be delivered in the box pictured.
N.B. Images are not to scale, items will appear larger in photos, this is not to deceive but to show all possible detail. Please see measurements for size.