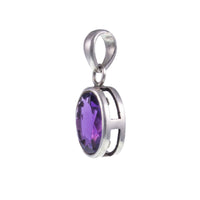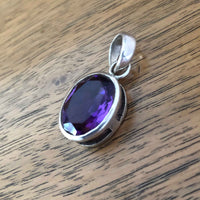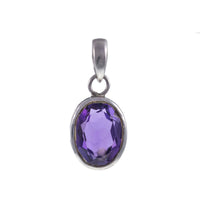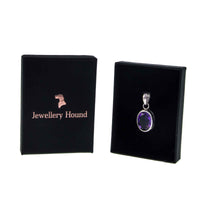 Large Vintage Synthetic Oval Amethyst Pendant
Sold - This Item is no Longer Available
Large Vintage Synthetic Oval Amethyst Pendant
A Vintage Synthetic Oval Amethyst Pendant

A minimalist modern rub-over set pendant, the vibrant purple faceted synthetic oval amethyst makes it a stand out piece.

Stamped 925, responds positively to tests for silver

Condition: In very good structural condition, stone in very good condition, feint scratching on metal noticeable on close inspection.

Measurements:
Pendant length (inc Bale). 30mm
Stone Measurements: 16mm x 12.5mm

Weight: 4.9 grams

Will be delivered in Jewellery Hound Gift Box photographed

N.B.
Images are not to scale, items will appear larger in photos, this is not to deceive but to show all possible detail. Please see measurements for full detail.

Also please note It is vitally important to us that you when you receive your item there are no untoward surprises, so much so that the photo's (and descriptions) don't always show items in their best light.

If you already love this pendant you will love it even more in the 'flesh'!