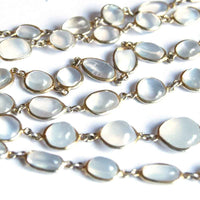 Elegant Vintage Bohemian Style Silver Moonstone Necklace
Elegant Vintage Bohemian Style Silver Moonstone Necklace
A rare and much sought after Circa 1920's continuous loop (no clasp) of 54 bezel set cabochon moonstones to form a 26" Necklace which slips over the head.
Set in a white metal that responds positively to tests for silver.
This crystal necklace has a classic feel with moonstones that have luminous light and glow. The clear moonstones pick up subtle hints of colour and have a vibrant glow that unfortunately my photography can not do justice.
The slightly irregular sized stones are slightly domed in shape on one side and flat on the other and are bezel set to let the light the pass through the stones.
Condition: Very Good, though there is a little tarnishing, which evident in the photographs. All bezels appear to be good in order. The chain is both delicate and sturdy.
Length: 26" (66cm)
Weight: 14.2g
Will be delivered in one of the gift boxes pictured.
N.B. Images are not to scale, items will appear larger in photos, this is not to deceive but to show all possible detail. Please see measurements for size.