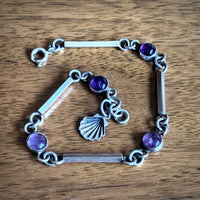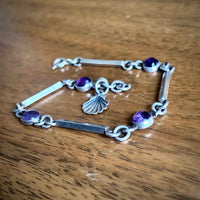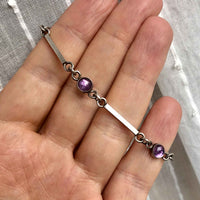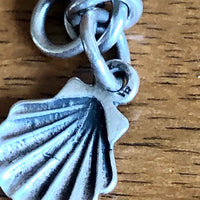 Dainty Cabochon Amethyst Silver Bracelet with Silver Shell Charm
Dainty Cabochon Amethyst Silver Bracelet with Silver Shell Charm
A beautiful vintage amethyst silver bracelet consisting of 4 round cabochon amethysts connected by fine solid silver bars and links. A dainty shell charm hangs near the bolt ring clasp.
Condition: In very good condition, a little natural oxidisation and fine scratching acquired during its years (Please see magnified photos for more details).
Marks: Stamped 925 on the shell, responds positively to tests for silver
Stones: Amethysts, February's Birthstone
Maker:  There appears to be a makers mark but is unidentifiable (see photograph)
Amethyst Setting Measurements: 6.8mm
Length: 7" (17.75 cm)
Weight: 7.6g
Will be delivered in Jewellery Hound Gift Box photographed
N.B.
Images are not to scale, items will appear larger in photos, this is not to deceive but to show all possible detail. Please see measurements for full detail.
Also please note It is vitally important to us that you when you receive your item there are no untoward surprises, so much so that the photo's (and descriptions) don't always show items in their best light.
If you already love this bracelet you will love it even more in the 'flesh'!