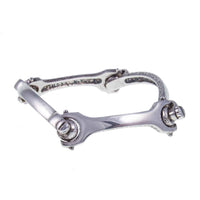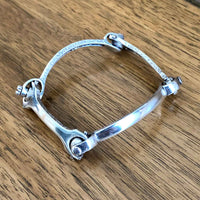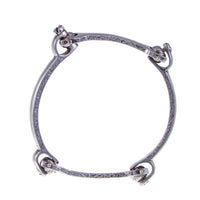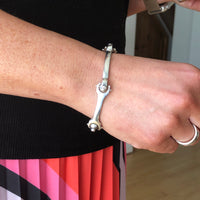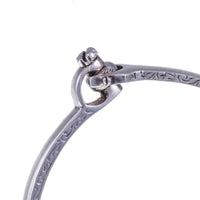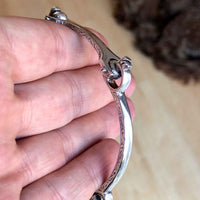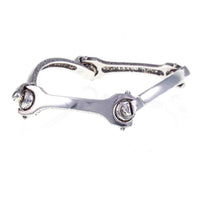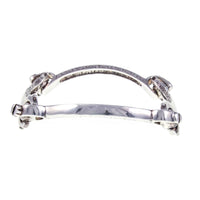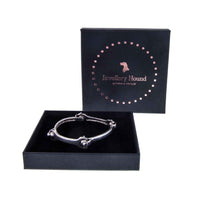 Antique/Vintage Engraved Sterling Silver Bangle/Bracelet.
Unusual Antique/Vintage Engraved Sterling Silver Bangle/Bracelet.
The wonderful bangle is made up of four solid sections each polished on the outside but with hand engraving on the sides. The sections are brought together with 4 way 'stirrup like' articulating joints with which one has a screw fitting to provide an opening so that the wearer can get the bracelet on.
Measures 54.5mm x 54.5mm, so the bangle is would fit a small to medium womens wrist. 
Weight: 30g
The solid silver bracelet is in excellent condition, minor scratching noticeable on close inspection, please see photo's for further detail.
The metal is not marked but responds positively to tests for silver.
The only downside I guess is putting the bracelet on, which might be tricky (might take two) but the screw which can be turned with a hand tightens firm. 
Dan Says: "I have never seen another bracelet like this so I'm not sure when or where it was made but I do know it's quite weighty, the workmanship gives it a feel of quality and it has a lot of charm"
Will be delivered in Gift Box photographed
N.B.
Images are not to scale, items will appear larger in photos, this is not to deceive but to show all possible detail. Please see measurements for full detail.
Also please note It is vitally important to us that you when you receive your item there are no untoward surprises, so much so that the photo's (and descriptions) don't always show items in their best light.
If you already love this bracelet you will love it even more in the 'flesh'!