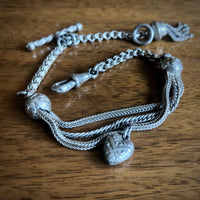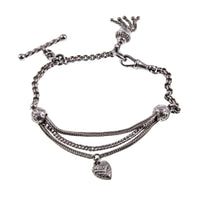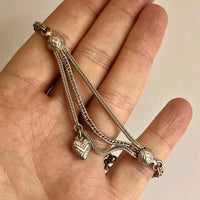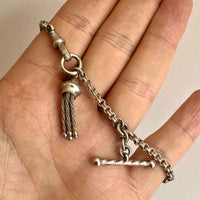 Antique Sterling Silver Albertina Bracelet
Sold - This Item is No Longer Available
Antique Sterling Silver Albertina Bracelet
This victorian ornate chain would have been worn attached to a pocket watch but now they are highly collectible and very often worn as bracelets. 
A fine sterling silver Victorian Albertina chain in very good condition. The twisted T-Bar does have a little damage by one of its balls but is still well attached and takes some examining to notice (please see magnified photos for full details).
Marks: 'Solid Silver' on the swivel clasp, responds positively to tests for silver
Maker:  Unknown
Date: Circa 1890s
Length: 8 1/2" (21.5 cm) (to fit medium/large to large wrist)
Weight: 16.9g
Will be delivered in Jewellery Hound Gift Box photographed
N.B.
Images are not to scale, items will appear larger in photos, this is not to deceive but to show all possible detail. Please see measurements for full detail.
Also please note It is vitally important to us that you when you receive your item there are no untoward surprises, so much so that the photo's (and descriptions) don't always show items in their best light.
If you already love this bracelet you will love it even more in the 'flesh'!