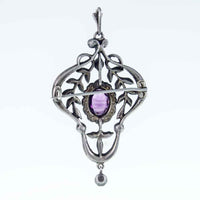 Antique Belle Epoque Amethyst Paste Pendant/Brooch in Sterling Silver. Circa 1910
A beautiful antique Edwardian or Belle Epoque amethyst paste costume pendant/brooch in Sterling Silver.
Condition: Very good, a some discolouring (see photos) on a few of the clear stones and I have intentionally left the natural oxidising of the metal. Overall probably one of the best I have seen from this era.
Brooch has a C-Clasp fitting.
Measurements: 60mm x 35mm
Weight: 9.6g