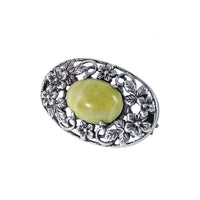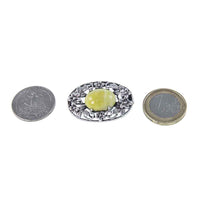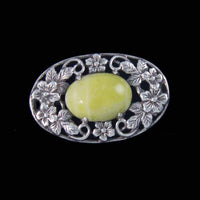 A Vintage Iona Marble Brooch in the style of 'Bernard Instone'. Circa 1960's
A very pretty Vintage Iona Marble Brooch in the style of 'Bernard Instone'. Circa 1960's
The white metal is signed 'Sterling Silver' and responds positively to tests for high grade silver.
The brooch measures 35 mm by 22.4 mm and the cabochon stone measures 16 mm by 12 mm. 
The brooch fastens with a rollover clasp. 
Weight: 9.2g
Condition: Very good, the stone has a tiny bit of movement in the setting but all claws are secure and the stone is safely held in place.
Bernard Instone: a very collectable Arts and Crafts designer. Studied at the Birmingham School of Jewellery. His work is included in the collections of the V&A Museum.
Iona Marble: a yellowy green mineral that is found on the beaches of Iona, Scotland.