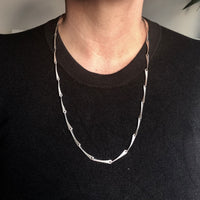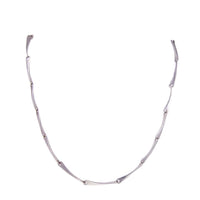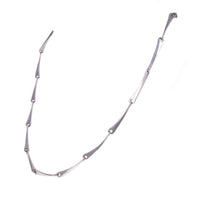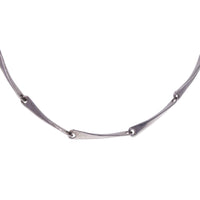 A Modernist Hammered Sterling Silver Linked Necklace.
Sold - This item is no longer available
A Modernist Hammered Sterling Silver Chain Linked Necklace. 25"(64cm) Long
With a sterling silver hallmark that indicates this necklace was Imported to London in 1974 (from I believe to be Europe). This classic modernist bone like link is a very stylish piece of jewellery.
Designer: Unknown (Import Marked AS)
Various other links stamped (.925)
Necklace Length: 25"
Weight: 22.5 grams
Link Length: 25mm
Condition: Excellent, minor scratching noticeable on close inspection. (Please see detailed photos)
Will be delivered in gift box.