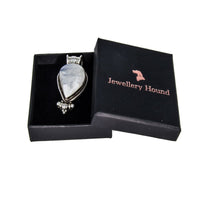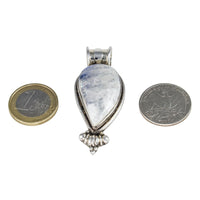 A Large Vintage Rainbow Moonstone Pendant
SOLD, THIS ITEM IS NO LONGER AVAILABLE
A large vintage rainbow moonstone pendant in a white metal stamped 925 that responds positively to tests for silver.
Measurements: 56mm x 24mm
Weight: 19.5g
Rainbow Moonstone: A variety of labradorite that exhibits a blue or multicoloured adularescence on a light body colour. 
It was admired by the Romans who believed that it came from the rays of the moon.
It is quite common to see used in Art Nouveau jewellery.