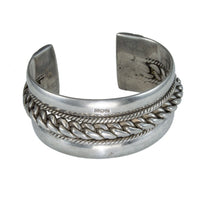 A Heavy Vintage Bedouin Silver (800) Bangle with Egyptian Hallmark. 1940
SOLD, THIS ITEM IS NO LONGER AVAILABLE
A heavy bedouin silver bangle with Egyptian hallmark dated 1939-40. 
Width: 29mm
Interior Measurements: 60mm x 50mm (to fit medium wrist)
Weight: 122g
Dan Says: "This is a solid heavy bangle, which is good because over the years it has been able to withstand everyday wear with out too great an effect. It is now over 75 years old, and I'm guessing it will easily take another 75 years of wear"