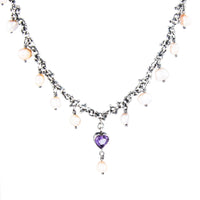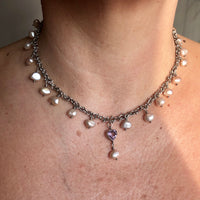 Danish Silver Fresh Water Pearl Choker Necklace with Hanging Purple Heart
Sold - This item is no longer available.
A sterling silver fresh water pinkish pearl choker necklace with central hanging purple heart made by Copenhagen jewellers Carre. 
Necklace has an Adjustable Length of 14" to 15 1/2 inches (36cm to 40cm)
Centre Drop: 34mm
Weight: 26g
Stamped 925 and Signed Carre, responds positively to tests for silver.
Dan Says: In excellent condition, silver a little darkened but all looks part of it's ageing process.