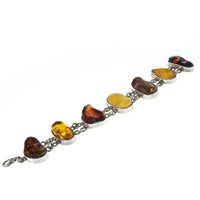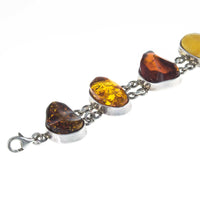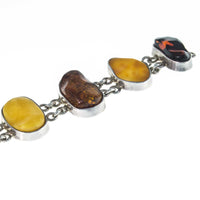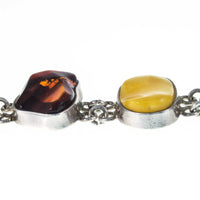 A Chunky Vintage Multi Coloured Amber Chain Linked Bracelet
Sold - This Item is no Longer Available -
A Chunky Vintage Multi Coloured Amber Chain Linked Bracelet

A modernist handcrafted 7 stone multi amber bracelet made up of variety of natural amber each set in its own fitted settings, in a white metal that responds positively to tests for high grade silver.

Condition: Excellent, there is some fine scratching which is noticeable on close inspection. (Please see magnified photo for close up detail)

Amber Colours: Honey, Cherry, Butter and Brownish Orange

Weight: 43.4g

Bracelet Width (Average Length of Stone Settings): Approx 25mm

Length: 18.5cm


Will be delivered in one of the boxes pictured.

N.B. Images are not to scale, items will appear larger in photos, this is not to deceive but to show all possible detail. Please see measurements for size.