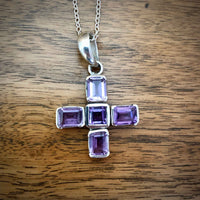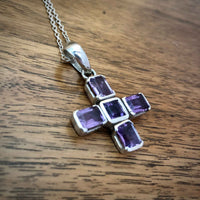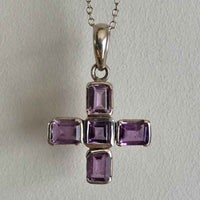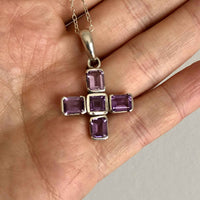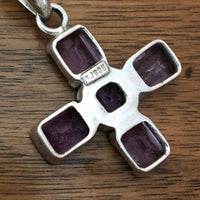 Vintage Amethyst Silver Greek Cross with Chain
Vintage Amethyst Silver Greek Cross with Chain
A chunky vibrant purple stone pendant consisting of central square rub over set amethyst in between four emerald cut amethysts in the shape of a greek cross.
Condition: Very good, fine scratching only noticeable on close inspection, also the stones setting have been hand made so some settings are not perfectly symmetrical (Please see detailed photographs).
Marks:  'SJ 925' , responds positively to tests for silver
Stones: Amethysts, February's Birthstone
Maker: 'SJ' Unknown
Chain:  Sterling Silver Belcher Chain - 42cm long (16.5")
Measurements: 40mm x 27mm
Weight: 9.2g
Will be delivered in Jewellery Hound Gift Box photographed
N.B.
Images are not to scale, items will appear larger in photos, this is not to deceive but to show all possible detail. Please see measurements for full detail.
Also please note It is vitally important to us that you when you receive your item there are no untoward surprises, so much so that the photo's (and descriptions) don't always show items in their best light.
If you already love this pendant you will love it even more in the 'flesh'!