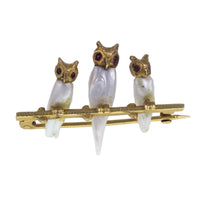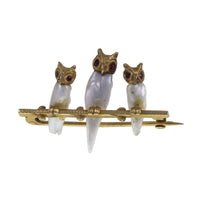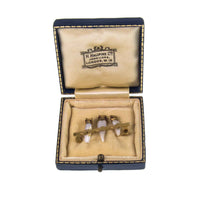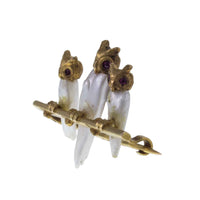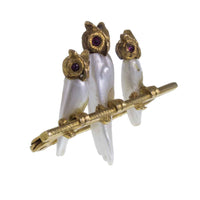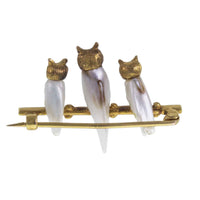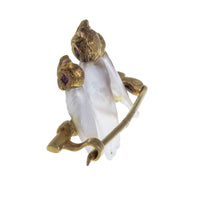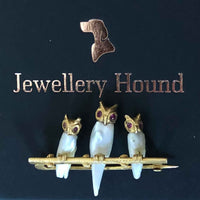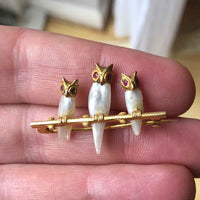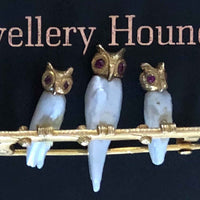 18ct Gold Ruby & Pearl Owl Brooch. c.1900
18ct Gold Ruby & Pearl Owl Brooch. c.1900
A small but gorgeous piece depicting 3 owls sitting on a branch, the owls heads made with gold, detailed engraving and ruby eyes. Their bodies made up of natural shape baroque pearls. The branch once again is gold and has more engraved fine detail. Just a fabulous brooch in Vintage Box.
Measurements
Width (Branch Length): 35.8mm (1.4")
Middle Owl Height: 24.6mm (1")
Weight: 5.4g
The brooch is not marked but the yellow metal responds positively to tests for 18ct Gold.
Condition: The clasp though a little out of shape is working very well, the ruby eyes are all original….. however one or more of the owls in its long life has come away from the branch and (if I say) a little crudely but firmly reattached. The close up photos quite clearly show glue marks, the white background photos show more than what is visible to the naked eye. The picture of the brooch in my hand shows a truer reflection of what it looks like but again this picture is still magnified. There is also some, what look like scorch? marks to back of pearls but these are only visible when not worn.
Please examine all the detailed photo's as description above is an explanation of what is clearly visible in the photos.
Dan Says: With my photos and In my condition reports I like to point out everything even if it doesn't paint the perfect picture. I want no surprises for my customers. Having said this, I only list items that are worthy of resale. This brooch is a delight regardless of its history but like all jewellery should be 'treated with care'.
N.B. Images are not to scale, items will appear larger in photos, this is not to deceive but to show all possible detail. Please see measurements for full detail.