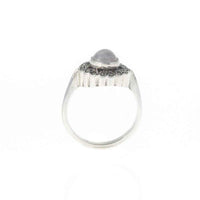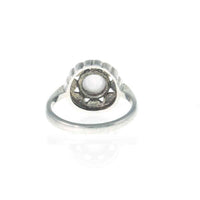 A Pretty Vintage Moonstone and Marcasite Hearts Cluster Ring
SOLD, THIS ITEM IS NO LONGER AVAILABLE
A Pretty Vintage Moonstone and Marcasite Hearts Cluster Ring
A beautiful ring made of a Round Cabochon Moonstone Stone Surrounded by 8 hearts each made up of 3 marcasite stones.
The moonstone has a subtle hint of pink to it, which can be seen in the outdoor picture.
Set in a white metal stamped silver which responds positively to tests for silver.
Condition: Excellent, no signs of wear.
Finger Size: K 1/2 UK (5 3/8 US)
Weight: 2.7g
Cluster Width: 11.5mm
Band Width: 2mm
Will be delivered in the box pictured.
N.B. Images are not to scale, items will appear larger in photos, this is not to deceive but to show all possible detail. Please see measurements for size.